Our health care heroes need aid – now.
Pre-COVID, nursing homes faced chronic Medicaid underfunding, which made it difficult to attract and retain nurses, nurse aides and other critical personnel. The pandemic only exacerbated these staffing challenges, and now long term care faces a historic labor crisis.
The Lowest Workforce Levels in 15 Years
Long term care facilities have lost more than 400,000 caregivers since the start of the pandemic and are facing the worst job losses among all health care providers. Read the latest jobs report.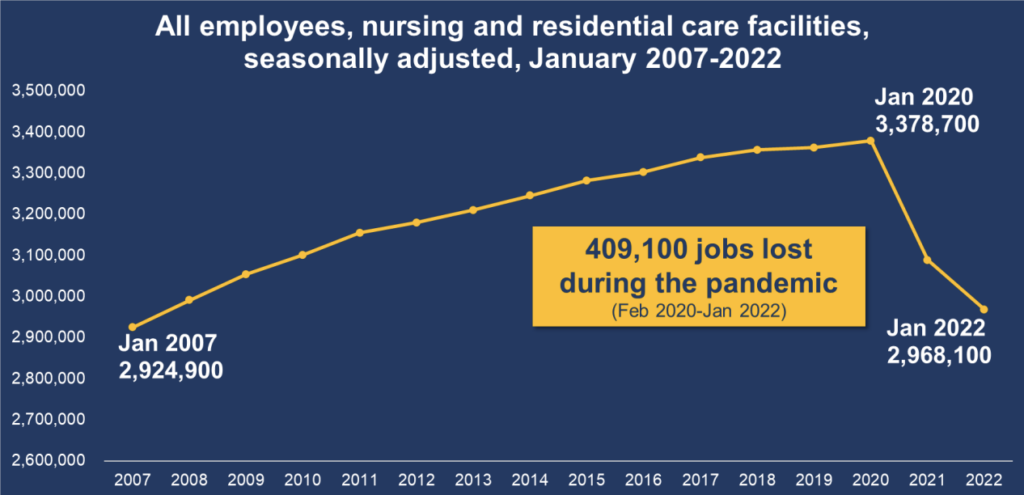 Staff Burnout is Real
Frontline caregivers are heroes for serving our nation's most vulnerable in their hour of need. They went above and beyond the call of duty, doing everything they could to protect their residents from COVID-19 while also stepping in for loved ones who were unable to visit. But the pandemic has taken an emotional and physical toll, and caregivers are exhausted.
1 in 4 health care workers are likely to leave the field in the near future.
Dedicating Every Possible Resource
Long term care providers have directed tens of billions of dollars to support their staff during the pandemic—including wage increases, bonuses, PPE, training and more. But with fixed government rates, nursing homes on shoestring budgets lack the resources to make additional investments in their workforce.
Nursing home workers saw wage increases in 2020 (9.5%) and 2021 (6.3%) that outpaced those working at other types of care facilities.
Increasing Need for Temporary Staff
In order to ensure residents receive the around-the-clock care they need, many facilities are having to increasingly rely on temporary agencies to fill staffing shortages. There are widespread concerns that these staffing agencies are exploiting the pandemic and the health care labor shortage by inflating prices beyond reasonably competitive levels, depleting providers of precious resources needed to invest in full-time staff.
How Seniors Are Impacted
The labor crisis has a direct impact on seniors' access to long term care. When long term care facilities do not have enough staff, they must limit the number of residents they can serve. Some facilities are closing altogether because of staffing shortages.